Abdoulaye Diarrasouba aka ABOUDIA was born in 1983 in Abidjan, Ivory Coast. He became a painter, against the advice of his parents and teachers who predicted a career as a "Tagger". In 2003, he graduated́ from the Centre d'Art Technique des Arts Appliqués in Bingerville.
Aboudia was spotted in 2011 by critics for his works that bear witness to the violence in Ivory Coast during the civil war and the numerous riots that took place after the presidential elections. His works are distributed throughout the world thanks to the photographs taken by Finbar O'Reilly for Reuters, and are very quickly exhibited at the Jack Bell gallery in London in 2012 and at the Cécile Fakhoury gallery in Abidjan in 2013, where he collaborates notably with the Ivorian artist Frédéric Bruly Bouabré. His presence in the exhibition "Pangea II: New Art From Africa and Latin America" at the Saatchi Gallery in London in 2014 exposed him alongside an emerging generation of young African and South American artists. His work is frequently shown in solo exhibitions in Abidjan, London, New York, Paris and Dakar. He created the Aboudia Foundation in Bingerville in 2018 to support children and young artists.
Aboudia's work can be found in numerous collections, including the Saatchi Gallery in London, the Nevada Museum of Art in Reno, USA, and the Tiroche DeLeon collection in Israel.
His last public sale record was in March 2021 at Christie's in London. A work from 2013 was sold for 189,000 euros.
Today he lives between Asu (his home town) and Brooklyn.
The foundation of his style and technique
He began by working on large canvases measuring 3 x 4 metres. He continues to distinguish himself by creating monumental formats of 30, 60 meters.
He defines his style as urban, "street art that speaks of graffiti". Influenced by the graffiti of Abidjan and the traditional statues of West Africa, he is naturally compared to Jean-Michel Basquiat. The famous artist also uses the term "Noutchy", which refers to the combination of several Ivory Coast languages and French, to characterise his work. His art is a bridge between contemporary Western aesthetics and the problems of a changing African society.
In his work, which has a strong biographical and protest content, he reveals a poor facet of Abidjan with its modest neighbourhoods, far from the idealised images of Africa. His greatest source of inspiration are the children of the disadvantaged neighbourhoods of the Ivorian capital who have not had an education and dream of better days. The subject matter of his work focuses mainly on this theme because he considers children and education to be the pillars of a nation. He says that it was while walking down the Treichville district in Abidjan that he observed children expressing themselves on the walls by making graffiti. He watches this little boy who wants to be a doctor, drawing himself with a white coat. Another little girl who dreams of being an actress immerses herself in her imagination by drawing a scene from a film. This is how he creates his identity, by borrowing the writing of these children with this naive and colourful gesture full of vitality and energy. He puts himself in the shoes of a 5 year old child to create and uses materials such as cardboard, charcoal or even chalk, to remain close to the reality of these children and respect their history.
"You have to write the story as it is". 1
A cosmopolitan artist, he constructs his work as an anti-violence manifesto with very few technical means. He acts as a spokesman for the deprived youth of Abidjan and highlights their cause through his work while asking fundamental questions about the nature of the world.
"If we decide to wage war, why can't we decide to make peace and help people sleeping in the street? We have that power. What is wrong with this world? That's the question I'm asking myself and I'd like to find the answer." 2
He also sees art as a way to bring people together.
"Art is something that travels, brings together all social classes." 3
A series of three works can be seen on the gallery's walls
The Hurtebize Gallery has the will to diversify and to propose a new palette of international contemporary artists. This change of direction will focus on several areas, including African artists and a return to figurative art. Aboudia, a young up-and-coming artist in full explosion, is representative of this movement and was a real favourite for the gallery. We have included a series of three square works in orange that can be seen on our walls. These works mix techniques where paintings, pastels, collages as well as materials found in the street are superimposed to represent scenes of life in the Abidjan neighbourhoods. Characters drawn with thick pastel strokes cover shreds of magazine pages and other elements to catch the eye of the viewer.
At the centre of his discourse are worried faces witnessing a dark urban chaos that occupy almost the entire composition. What is striking is the brutal and violent reality of Africa that his works show, which contrasts with the vitality and cheerfulness that emanate from his art.
"Through colour I illustrate the vitality of these children. I treat a negative subject with joie de vivre, colour and enthusiasm. 4
Aboudia's works will be presented at the Moderne Art Fair, a new event that replaces Art Élysées, from 21 to 25 October in Paris.
---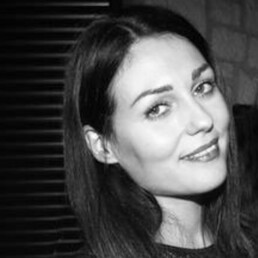 Céline Fernandez
With 14 years of experience in marketing and communication, Céline has worked for large companies such as Public Système, Groupe Galerie Lafayette and several communication agencies. For the past 2 years, she has been managing the gallery's communication through the website, social networks and traditional media.

---