In 1822, Nicolas revolutionized the world of wine by bottling precious nectars for home consumption.
Since 1930, in order to thank its most loyal customers, Etienne Nicolas publishes every year for Christmas a catalog illustrated by an artist. Today, this long series of 35 books is a real treasure for art and wine collectors. Over the years, Kees Van Dongen, Jean Hugo, Bernard Buffet, André Derain, Bernard Lorjou, Raymond Guerrier and Raoul Dufy, among others, have collaborated in the creation of these brochures.
We recently had the opportunity to acquire an exceptional set of 7 original drawings by Raoul Dufy reproduced in the 1936 catalog published by Nicolas & Draëger Establishment, a famous printer and engraver in Montrouge, entitled "Mon Docteur le Vin". The 20 watercolors created for the occasion were the subject of an exhibition that same year at the Galerie Bernheim-Jeune in Paris. We also found an original edition of the book, signed by Dufy.
From the first page, the tone is given: "My Doctor the Wine? Yes, because his precepts, as old as the world, are justified more and more each day by science. After the First World War, Marshal Pétain, in his introduction "Homage to Wine", indicates that "wine has been, for the combatants, the beneficial stimulant of the moral forces as well as the physical forces – thus it has largely contributed, in its own way, to the Victory". And the benefits of wine are listed in the summary: vitamins and radioactivity of wine; wine against typhoid fever, depression, anemia, diabetes or obesity; wine for the kidneys, the maintenance of youth and aesthetics, character and morale; indispensable to writers, artists and athletes. And finally, wine makes men handsome and promotes longevity! The quotation of Professor P. PIERRET will serve as a conclusion: "Wine carries with it cheerfulness, strength, youth and health. It is sunshine in a bottle". So, who better than Raoul Dufy to illustrate such a book?
« If I could express all the joy that is in me » Raoul Dufy
Painter of optimism, festivity and worldliness, Raoul Dufy has a marvelous look at the world and transmits through his colorful and poetic painting, a joyful feeling of well-being and life. As Pierre Camo says so well in "Dufy, l'Enchanteur" (ed. Marguerat, 1947) "Everything is fresh, lively, clear, joyful like spring in nature or youth in life". The titles given to exhibitions and various tributes dedicated to the artist testify to this: "Raoul Dufy. Le Plaisir" (Museum of Modern Art, Paris, 2008); "Raoul Dufy. A Spectacle of Society" (Connaught Brown Gallery, London, 2016); "The Colors of Happiness" (Jean Cocteau Museum, Menton, 2017); "The Lightness of Raoul Dufy" (Angladon Museum, Avignon, 2017).
His style corresponds exactly to the spirit of "Mon Docteur le Vin", a work linking humor, finesse and precision.
At the age of 13, the young Raoul imposed his choice to become a painter on his family of musicians and left his native Normandy to train at the Ecole des Beaux-Arts in Paris. Influenced at first by the Impressionists and then by the brilliance of color in the Fauves, he admired Cézanne more than anyone else and it was in the Provençal lands dear to Cézanne that he found his own language and developed his principle of "light-color".
"In 1919 Dufy suddenly became Dufy. The hand is freed, his line gains in flexibility and strength. Above all, he devoted himself to watercolor, which allowed him to render the beauty of the landscapes of Provence, their transparencies and their lights. (...) His painting acquires a new dynamism. The forms gain in lightness and balance. His drawing is faster, more exalted. He feels a desire to create which reflects all his joy of artist conscious to have reached maturity and all the happiness of a world henceforth liberated ".

Fanny Guillon Laffaille
The essential characteristics of Raoul Dufy's style were born and would never leave him: dissociation of line and color; sketched but dynamic and lively figures; chubby and voluptuous curves; simple, supple and expressive lines; flamboyance of color that becomes light. In 1936, the year of the publication of "Mon Docteur le Vin", Dufy was already known worldwide and had personal exhibitions in New York, Brussels, Prague…
Endowed with an exceptional gift of drawing and coloring, it is through drawing and more precisely through watercolor that he reveals his true talent and releases his lively and graceful gesture. From the 1930s, Dufy gave more and more space to his graphic work and worked on the possibilities offered by the use of his "puddles of color" that precede his line.
"Any drawing by Raoul Dufy is in some way his signature

and what is agreed to call inimitable signature."
Jean Cocteau
Raoul Dufy does not seek to represent materiality but offers a very free and subjective interpretation of his subject where reality and imagination intersect. If one finds recurring themes and motifs in his work (orchestras, landscapes, portraits, horse races…), the artist is eclectic and expresses himself through various media, multiplying experiences: drawing, painting, sculpture but also decorative arts, illustration, tapestry, sets and costumes. His calligraphic surety, the simplicity and purity of his subject, his extraordinary sense of composition, the suppleness of his lines and the brightness of the colors dissociated from the line will remain recognizable among all, whatever the chosen support.
A relentless worker, he produced no less than 4,000 drawings and 2,000 paintings, among other ceramics, fabrics, tapestries… a fruitful career if ever there was one, and success and international recognition were at hand! One year before his death, in 1952, the XXVIth Venice Biennale awarded him the Grand Prize for Painting to crown his work.
Hoping to have given you the desire to discover the serie, we are waiting for you at the gallery to present you this magnificent set of original watercolors that have not taken a wrinkle and make your heart happy!
---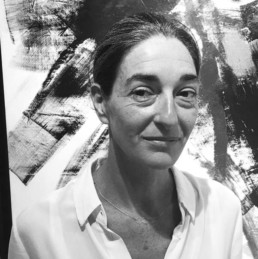 Maud Barral
Après une expérience de 15 ans passés aux côtés de Jean Ferrero, directeur de la galerie historique de l'École de Nice et des Nouveaux Réalistes, Maud a ensuite défendu la jeune création contemporaine durant 5 ans, au sein de sa propre galerie, avant de rejoindre l'équipe de la Galerie Hurtebize en 2015.