From a line of artists, from his grandfather to his two daughters, Francis Guerrier was born in 1964 in Marseille and lives today in his childhood home in Eygalières, which he has decorated with a huge studio bathed in light.
More than the mastery of artistic techniques, his family environment transmitted to him a strong sensitivity to art. But he waited until the death of his painter father Raymond Guerrier to be able to call himself an artist and he chose sculpture, turning his back on the painting practiced by the Guerrier family for two generations.
He left for Paris at the age of 19 and, the following year, began his creative activity with the architect-scenographer Pierre-Henri Magnin, who introduced him to the world of decor and scenography and whom Francis considered his master.
He got married and became a father at a very young age, which led him to create his own company for the creation of sets and scenography for events at the age of 25 in order to provide for his family's needs more serenely. For ten years, in order to meet his clients' wishes, he had to master many tools and media: video, laser, sound and light installations, but also construction materials, wood and steel. A rich experience but restrictive because it is time-consuming and limiting: he wants to expand his field of creation, give free rein to his imagination and no longer simply honor orders.
In 2000, at the age of 36, he sold his company and sailed for 4 months in the Mediterranean to discover the sites listed as World Heritage by UNESCO, from Italy to Egypt through Syria. On his return, he knew he wanted to be a sculptor. He then made a break in his professional career, which was nevertheless flourishing, in order to feel in phase with his deepest values and to respond to the imperative need to return to his roots. At first, he settled in Paris in his grandfather's studio, which was also André Derain's studio. He then discovered the painted work of his grandfather and this universe became his main inspiration. In 2002, he held his first exhibition of his sculptural work around the sky, dreams and memory, where he integrated light into the steel, wood, glass and copper that make up his creations.
But Francis Guerrier has a need for grandeur and dreams of creating a monumental work "that puts man in his place". He also feels that nature and the light of the south are necessary for him. In 2015, he moved with his second wife to Eygalières and rediscovered his roots. While still working as a set designer to satisfy his passion for theater, he further developed his know-how and his own technique and could finally tackle the realization of sculptures of impressive dimensions, such as his 12-meter high Feather. In 2005, the Galerie Guigon in Paris allows him to present his new work of steel based on the folding and the curve.
"I don't model my sculptures, I work from a sheet of metal that I cut and shape. By honoring the material, by respecting its energy, its spring, its possible curvature, I reach balance, harmony, I find nature... And it is nature, in its purity but also its complexity, which is my first inspiration. Curves, moons, trajectories and spirals so often present in nature, from shells to galaxies, are my writing. I do not seek abstraction, but on the contrary, to get closer to the original forms."
The black steel sheet becomes his medium of choice. He developed a technique of incising the metal and cold bending of flat plates by which he seeks to honor the material and find balance and harmony after the struggle. His Euclidean forms are inspired by nature, the cosmos and the stars, and volume is created through folding.
"It is with the black steel sheet, hard and springy, that my exchange with the material is the strongest. My main work with steel consists of cutting it, but above all, bending it into a curve. If I draw, it is the steel that takes shape and creates its volumes by its energy."
Monumental and yet light, black and yet luminous, soft and angular, his sculptures with pure, sober and elegant lines are the result of a manufacturing process very personal to the artist who lets himself be guided by the resistance of the material in order to find a true synergy between the work and its environment and offer new perspectives in the landscape.
"From this struggle with metal, I win if I tame, if I honor the material, I reach balance, harmony, I find nature..."
Strong and energetic while being pure and sober, Francis Guerrier's sculptures seduce us with the voluptuousness of their curves and the momentum of their lines. A true link between earth, sky and sea, they reflect the personality of their creator: "Head in the stars and feet on the ground".
---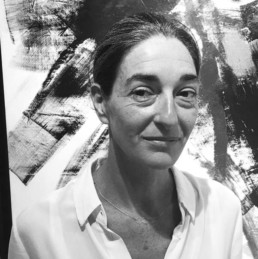 Maud Barral
After 15 years spent as the assistant of the famous gallerist Jean Ferrero, whose gallery has been the main center of creation for the artists of the School of Nice and the Nouveaux-Réalistes movements, Maud has then opened for 5 years her own gallery, supporting contemporary young artists. Then, she has decided to enter the Galerie Hurtebize, in 2015.